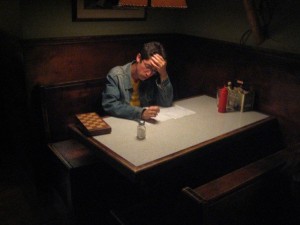 Jeffrey Young is a composer and violinist from Brooklyn, NY who specializes in experimental, rock, and classical music, including music he performs with the software Ableton Live.
Recent highlights include tours with The World/Inferno Friendship Society in Europe and the US, his performance of his own music with theater group stringsaTTached at the Festspiele Zürich festival in Switzerland, a monthlong US tour with Valerie Kuehne and the Wasps Nests, a 13-show solo tour through California, Arizona, New Mexico, Colorado, Wyoming, Utah, and Nevada as well as a solo mini-tour to Germany and Poland, a performance on the Ecstatic Music Festival at Merkin Concert Hall with his theatrical experimental group thingNY and indie-pop artist Helado Negro, a weeklong residency in Phoenix with Paul Pinto and members of Orange Theatre creating new work through a grant from the Network of Ensemble Theaters, and his performance of his own score to choreographer RoseAnne Spradlin's dance g-h-o-s-t c-r-o-w-n (working title) at New York Live Arts through two grants from New Music USA. With thingNY, Jeffrey has collaboratively composed and performed four experimental operas, through the support of grants from the Aaron Copland Fund, the New York Department of Cultural Affairs and the Queens Council on the Arts. He has worked with Pierre Boulez and other leaders of the European avant-garde including Kaija Saariaho, Georg Friedrich Haas, Marc-Andre Dalbavie and members of IRCAM, Ensemble Intercontemporain, the Stellari String Quartet, and the Kairos Quartett during four summers at the Lucerne Festival Academy in Switzerland, and with Steve Reich, David Lang, and Julia Wolfe at the Bang on a Can Summer Music Festival in North Adams, MA. He has twice toured China as an orchestral musician, and in addition to the groups above he has also toured the U.S. and Canada with indie rock band Food Will Win the War, psychedelic folk band Manson Family Picnic, minimalist chamber-rock band Slow Six, and Pogues cover band Streams of Whiskey.
Jeffrey performs frequently in New York City. He has appeared at venues including Carnegie Hall, Music Hall of Williamsburg, The Highline Ballroom, Bowery Ballroom, B.B. King's, Joe's Pub, Mercury Lounge, The Bitter End, JACK, and The Stone. He has appeared on The Late Show with David Letterman and The Rachael Ray Show, and he has been featured on over 40 albums, in genres including classical music, indie rock, prog rock, hip-hop, kids songs, and more. With flutist Matt Samolis, Jeffrey co-curated a monthly free improvisation music series in Boston, MA called Beasts of Improvisation on Parade. He graduated with a B.M. in violin and composition from the Oberlin Conservatory of Music in 2007. Since December 2014, he is a licensed New York City sightseeing guide, offering walking tours of the Lower East Side, Chinatown/Little Italy, and Williamsburg. Since July 2015, he is a content manager for LUCERNE FESTIVAL ALUMNI.